ZIERA SIZE CHART PAGE
ZIERA SIZE CHART
Every woman is unique and every foot is different. That's why we offer a broad size range, including some half sizes. We also offer a variety of 'width fittings' including M, W and XW. Use our handy guides below to find your Ziera size and fit.
FINDING YOUR ZIERA SHOE SIZE
MEASURING YOUR FEET
Place the paper on the floor next to a wall and place your foot on it with your heel against the wall. Keeping your foot still, use the pencil to mark a line where your longest toe ends.
Using your ruler, measure from the edge of the paper to the line you have drawn in cm. Add 10mm to your foot length to allow your foot to move. Record your length and use the below guide to find your size.
MEASURING YOUR FEET
Here are 4 quick and easy steps to find your perfect fit. You'll need a piece of paper, ruler, measuring tape and a pencil.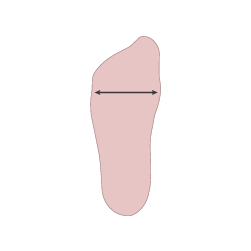 Find the widest part of your foot. Mark on a piece of paper the inside and outside tread width of your foot.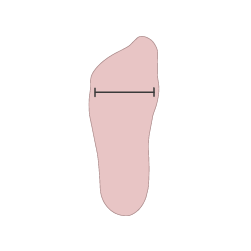 Take your ruler and measure the distance between these two points and write the measurement on the paper. This is your foot width.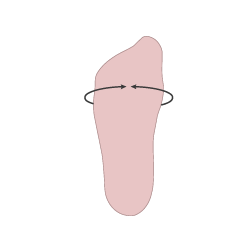 Now measure your forefoot volume – you'll need your measuring tape. Take the tape, and wrap it around your inside and outside joints.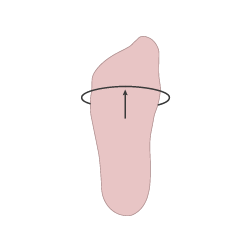 Read the tape at the crossover point and write it down. This will give you your forefoot volume measurement. Use the guide below to find your 'fit'.
SIZE

ZIERA SIZE 33

Fitting

M

W

XW

Foot Length

207

207

207

Forefoot Volume

208

214

221

Foot Width

80

82

 83

 

 

 

 
SIZE

ZIERA SIZE 34

Fitting

M

W

XW

Foot Length

213

213

213

Forefoot Volume

212

219

225

Foot Width

81

82

84

 

 

 

 
SIZE

ZIERA SIZE 35

Fitting

M

W

XW

Foot Length

220

220

220

Forefoot Volume

217

223

230

Foot Width

82

83

85

 

 

 

 
SIZE

ZIERA SIZE 36

Fitting

M

W

XW

Foot Length

227

227

227

Forefoot Volume

221

228

234

Foot Width

82

84

86

 

 

 

 
SIZE

ZIERA SIZE 36.5

Fitting

M

W

XW

Foot Length

230

230

230

Forefoot Volume

226

232

239

Foot Width

83

85

87

 

 

 

 
SIZE

ZIERA SIZE 37

Fitting

M

W

XW

Foot Length

233

233

233

Forefoot Volume

226

232

239

Foot Width

83

85

87

 

 

 

 
SIZE

ZIERA SIZE 37.5

Fitting

M

W

XW

Foot Length

240

240

240

Forefoot Volume

230

237

243

Foot Width

84

86

87

 

 

 

 
SIZE

ZIERA SIZE 38

Fitting

M

W

XW

Foot Length

240

240

240

Forefoot Volume

230

237

243

Foot Width

84

86

87

 

 

 

 
SIZE

ZIERA SIZE 38.5

Fitting

M

W

XW

Foot Length

243

243

243

Forefoot Volume

232

239

246

Foot Width

84

86

88

 

 

 

 
SIZE

ZIERA SIZE 39

Fitting

M

W

XW

Foot Length

247

247

247

Forefoot Volume

235

241

248

Foot Width

84

86

88

 

 

 

 
SIZE

ZIERA SIZE 39.5

Fitting

M

W

XW

Foot Length

250

250

250

Forefoot Volume

237

243

250

Foot Width

85

87

89

 

 

 

 
SIZE

ZIERA SIZE 40

Fitting

M

W

XW

Foot Length

253

253

253

Forefoot Volume

239

246

252

Foot Width

86

87

89

 

 

 

 
SIZE

ZIERA SIZE 41

Fitting

M

W

XW

Foot Length

260

260

260

Forefoot Volume

244

250

257

Foot Width

86

88

90

 

 

 

 
SIZE

ZIERA SIZE 42

Fitting

M

W

XW

Foot Length

267

267

267

Forefoot Volume

246

252

259

Foot Width

88

89

91

 

 

 

 
SIZE

ZIERA SIZE 43

Fitting

M

W

XW

Foot Length

273

273

273

Forefoot Volume

248

255

261

Foot Width

88

90

91

 

 

 

 
SIZE

ZIERA SIZE 44

Fitting

M

W

XW

Foot Length

280

280

280

Forefoot Volume

250

257

264

Foot Width

89

91

92

 

 

 

 
SIZE

ZIERA SIZE 45

Fitting

M

W

XW

Foot Length

287

287

287

Forefoot Volume

253

259

266

Foot Width

90

91

93