Birkenstock Size Chart Page
Birkenstock Sizing and Fitting Guide
Place the paper on the floor next to a wall and place your foot on it with your heel against the wall. Keeping your foot still, use the pencil to mark a line where your longest toe ends.
Using your ruler, measure from the edge of the paper to the line you have drawn in cm. Add 10mm to your foot length to allow your foot to move. Record your length and use the below guide to find your size.
How to Measure
It's important to measure your foot accurately to find the right size shoe. To work out the size and width you will require, please follow these steps:
Measure the length of your foot by standing on a flat surface with your full weight on your foot, then measure the distance from the back of your heel to the tip of your longest toe.

Add 10mm to your foot length to allow your foot room to move. This will give you the footbed length you need to find your size.

Measure the width of your foot across the broadest point. Compare your foot width measurement to the footbed width in your size to see if you will need a narrow or regular width.
Example: Julie's foot measures 240mm long and 95mm wide. Julie adds 10mm to her foot's length to find she will fit comfortably into a Size 39 (250mm Footbed Length). At that size, the Regular Width footbed of 97mm will fit her foot properly.
 Narrow Widths

 Regular Widths

Adult Sizes

Footbed Length

Footbed Width

Adult Sizes

Footbed Length

Footbed Width

35 Narrow

225mm

85mm

35 Regular

225mm

89mm

36 Narrow

230mm

87mm

36 Regular

230mm

91mm

37 Narrow

240mm

89mm

37 Regular

240mm

93mm

38 Narrow

245mm

91mm

38 Regular

245mm

95mm

39 Narrow

250mm

93mm

39 Regular

250mm

97mm

40 Narrow

260mm

95mm

40 Regular

260mm

99mm

41 Narrow

265mm

97mm

41 Regular

265mm

101mm

42 Narrow

270mm

99mm

42 Regular

270mm

102mm

43 Narrow

280mm

101mm

43 Regular

280mm

103mm

44 Narrow

285mm

103mm

44 Regular

285mm

107mm

45 Narrow

290mm

105mm

45 Regular

290mm

109mm
FINDING YOUR ZAGARRA FIT
MEASURING YOUR FEET
Here are 4 quick and easy steps to find your perfect fit. You'll need a piece of paper, ruler, measuring tape and a pencil.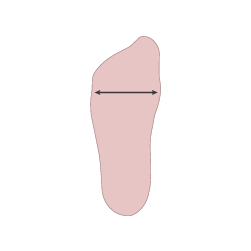 Find the widest part of your foot. Mark on a piece of paper the inside and outside tread width of your foot.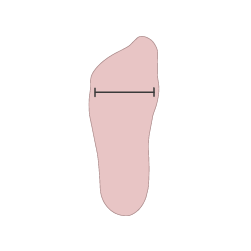 Take your ruler and measure the distance between these two points and write the measurement on the paper. This is your foot width.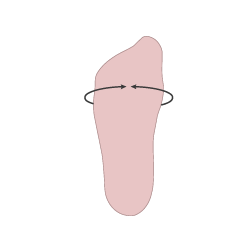 Now measure your forefoot volume – you'll need your measuring tape. Take the tape, and wrap it around your inside and outside joints.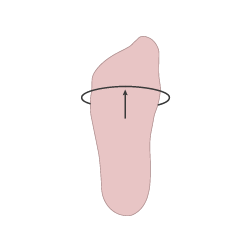 Read the tape at the crossover point and write it down. This will give you your forefoot volume measurement. Use the guide below to find your 'fit'.